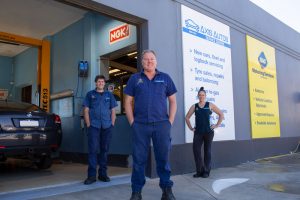 Originally established in 1973, Axis Autos has been providing quality servicing and repairs for Geraldton motorists and visitors for over 40 years. As an RAC Approved Repairer and an accredited member of the MTA, our expert trade qualified and licensed technicians use the latest diagnostics tools and equipment to ensure you of reputable and reliable service.
Conveniently located a short walk from the main shopping area in Geraldton, with ample parking at the workshop you are free to drop off your car with us and head into town to catch a movie or grab some lunch while we get to work on making your vehicle run as good as new. There is also a free 24 hour caravan and camper parking area directly behind the workshop so you can unhook, get your vehicle serviced and stay the night.
As a local family owned and operated business, we are proud of our longevity as a business, high quality of workmanship and excellent customer service.
We also take great pride in our local community and provide ongoing support to the following organisations:
Casuals Hockey Club
Geraldton Board Riders Club
Geraldton Grammar School
Geraldton Surf Life Saving Club
Geraldton Volunteer Fire & Rescue
Midwest Charity Begins At Home
Northampton Agricultural Society
Northampton Football Club
Railways Football Club
Rotary Club of Geraldton
To find out more about our business or to book your vehicle in for repairs, talk to one of our friendly staff today!